A guide to winter squash.
Squash season in Quebec lasts from the end of August until the end of April! On the Marketplace, you'll find over a dozen varieties of sustainably grown winter squash, some available all season long and some funky ones only making a brief appearance. Stuffed, roasted, mashed, in soup, in pies, or even as table decor - there's a squash for every occasion.
Keep scrolling to get familiar with them and to find out how to make the most of these seasonal gourds.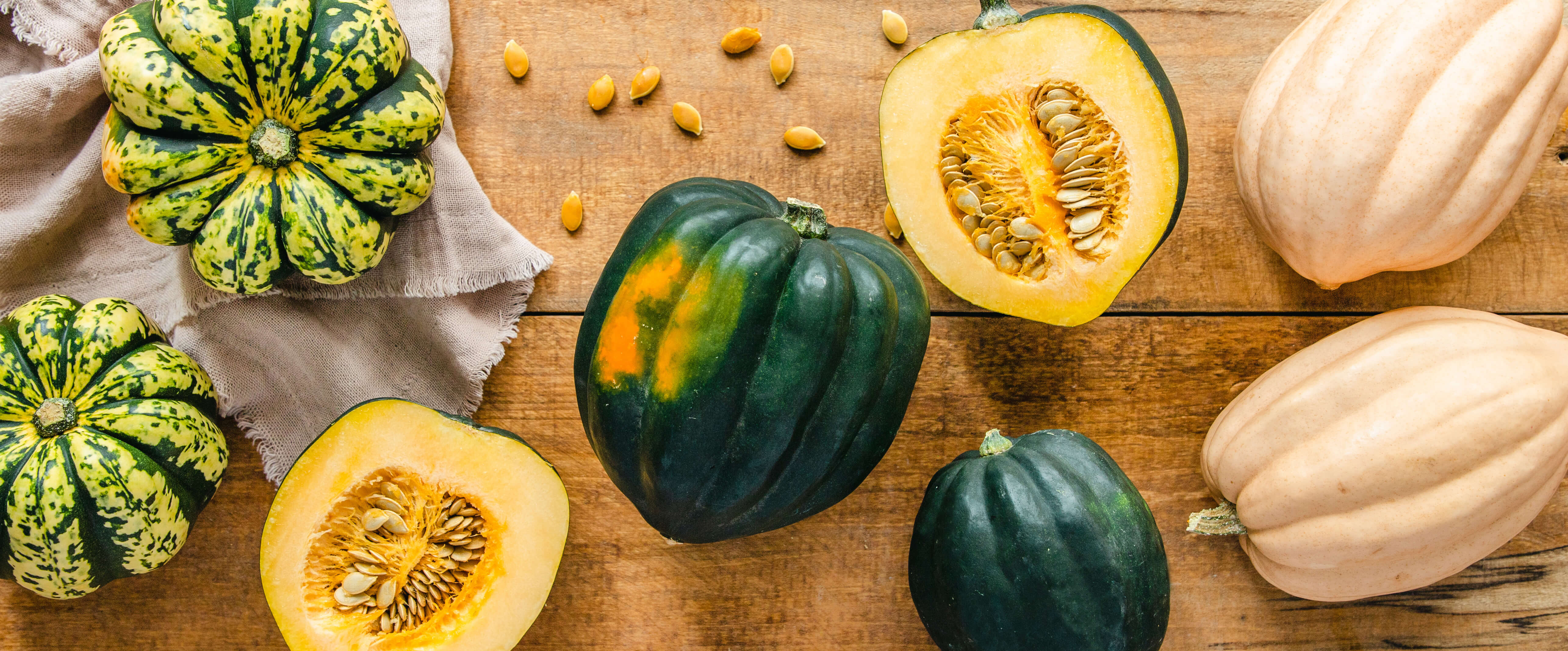 Sweet Dumpling (fall to mid-winter)
Similar in colouration to the Delicata, thanks to this variety's small size and hazelnut-chestnut flavour, it's your go-to stuffing squash. You can also use it for soups, jams, purées, and even sorbet.
Acorn (all season-long)
If you're looking for one of the best squash to stuff, look no further. With a hint of nutty sweetness, and the shape of its internal cavity (once seeded), it's ideal for your stuffing needs.
White Acorn - aka baked potato (all season-long)
With the shape of an acorn and the colour of a Butternut, this guy is also known as baked potato squash because it makes for an excellent (you guessed it!) potato replacement.
Carnival (late summer to early fall)
Can't decide between a sweet dumpling and an acorn squash? Then opt for this hybrid striped squash that transforms from green to cream and orange as it ripens. Its firm and dry exterior is ideal when oven-roasted with spices.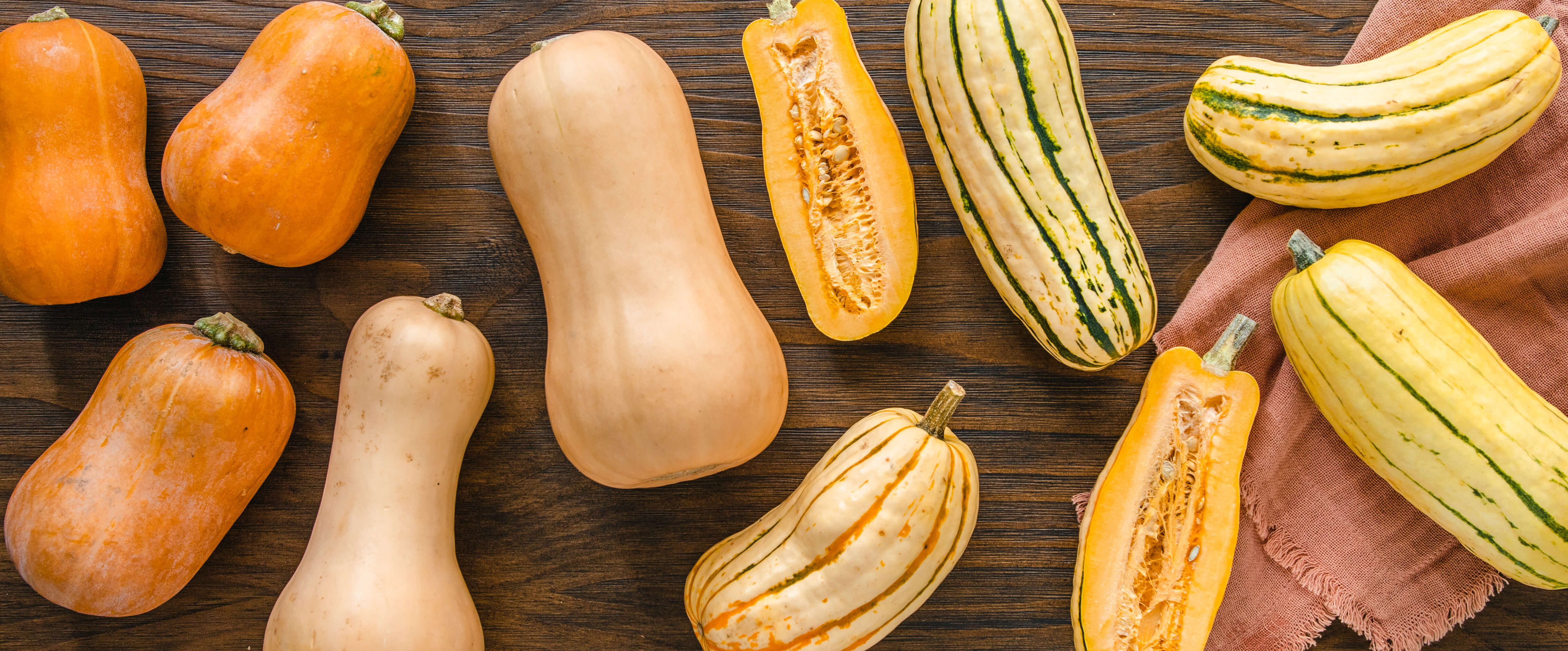 Honeynut (late summer until Christmas)
A cross between a Butternut and a Buttercup, this mini squash is perfect for individual portions of your classic recipes. It's a tad sweeter than the Butternut, but it can be used in the same endless ways.
Butternut (early fall to late winter)
Butternut squash is a classic and the king of versatility - with its thin skin and creamy texture, it's ideal in purées, soups, pies, or even makes for the perfect simple snack in veggie chip form with a side of hummus.
Delicata (late summer to early fall)
Delicata is an heirloom variety originally introduced by an American company in the mid-1890's. It's on the sweeter side, and since the entire squash is edible (aka no need to peel!), you can turn it into French fries and jams effortlessly.
Buttercup (early fall to late winter)
Buttercup is considered one of the sweetest winter squash varieties. This squash gets its name thanks to its hat-like cap. It has dark orange, sweet potato-tasting flesh that'll marry well with hard cheeses, nuts, cinnamon, and fresh herbs.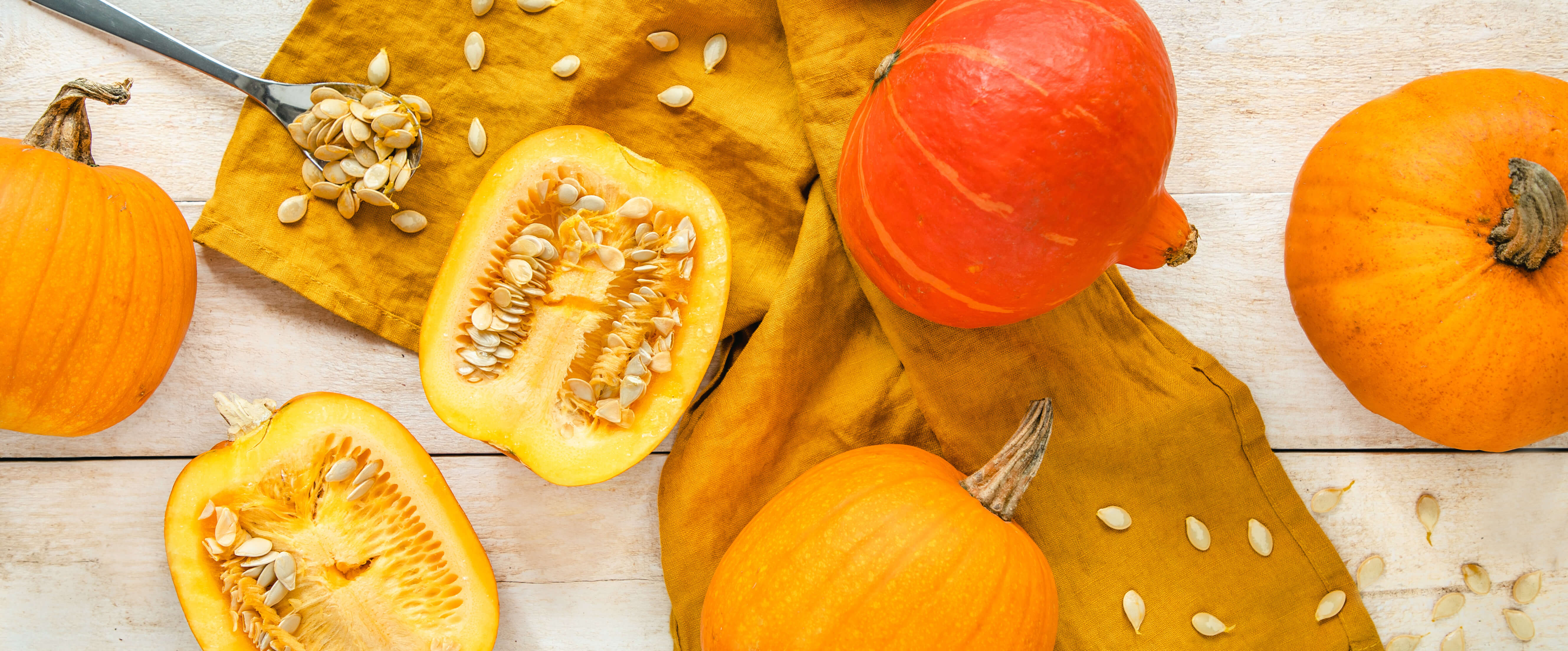 Pumpkin (late summer to mid-winter)
Break out your carving knives, scooping spoons, and candles - it's pumpkin time. This classic orange gourd is more than just a jack-o'-lantern - it can be transformed into fall classics like pie and bread as easy as bibbidi-bobbidi-boo! Tip! Clean and roast the seeds for a crunchy snack.
Red Kuri (late summer to mid-winter)
This bright orange Japanese squash has a hint of chestnut that pairs fabulously with coconut, kale, maple, and ginger. Do with that info what you will, but we recommend getting creative and using it for a spicy squash salad, blended into a white wine pasta sauce, or in a coconut squash soup.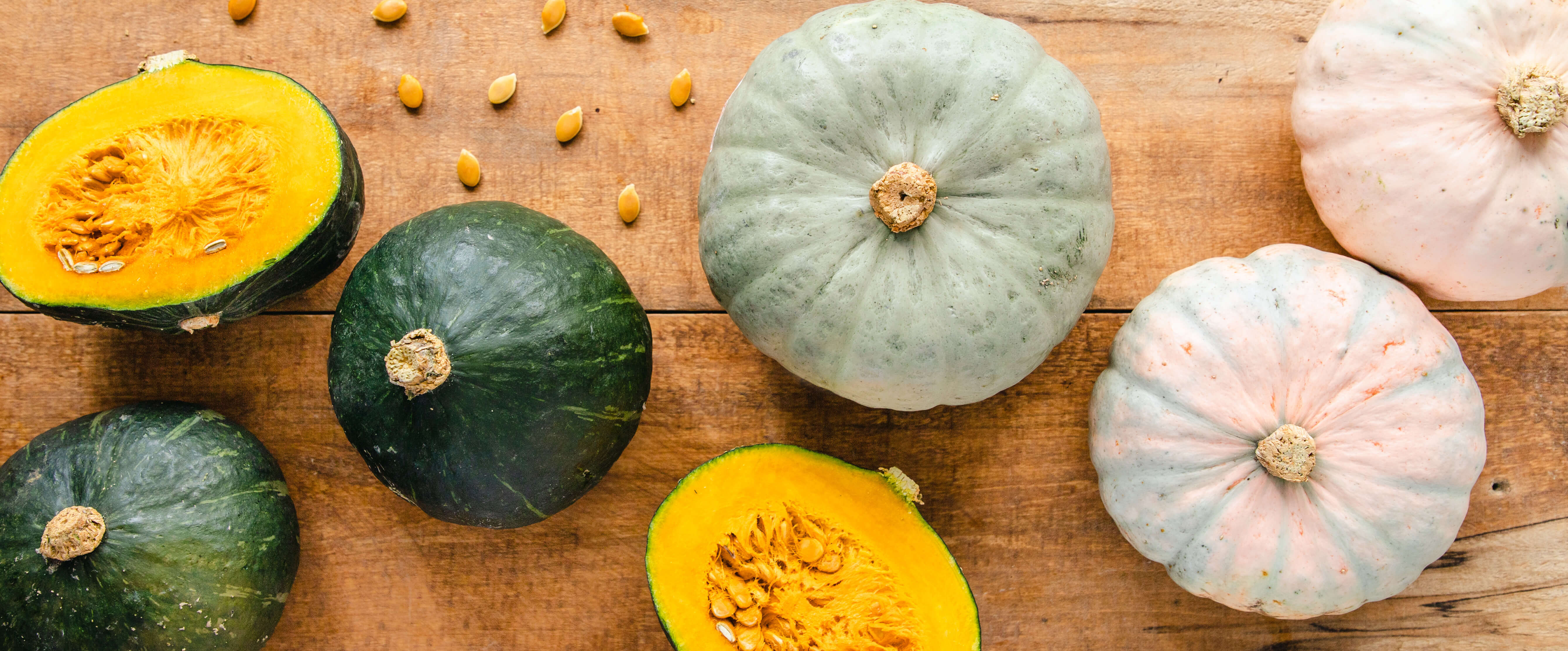 Kabocha (late summer to late winter)
Kabocha, also known as the Japanese pumpkin, refers to a Buttercup-type squash. This veggie's soft and edible exterior ranges from dark bluish-grey to green, and it's bright orange on the inside. It has a rich, sweet flavour and becomes dry and flaky when cooked. Kabocha's exceptionally sweet nuttiness is reminiscent of pumpkins and sweet potatoes but with an earthy twist. You can enjoy it baked, braised, in gnocchi form, or rolled into fritters, but it especially shines in fall desserts.
Futsu (late summer to early winter)
This heirloom Japanese pumpkin squash tastes like roasted chestnuts with a creamy, smooth texture. And, as a bonus, its cotton candy-looking exterior is edible! Try roasting it with some brown sugar and maple syrup (to bring out its chestnut flavour) and toss it into a fall salad.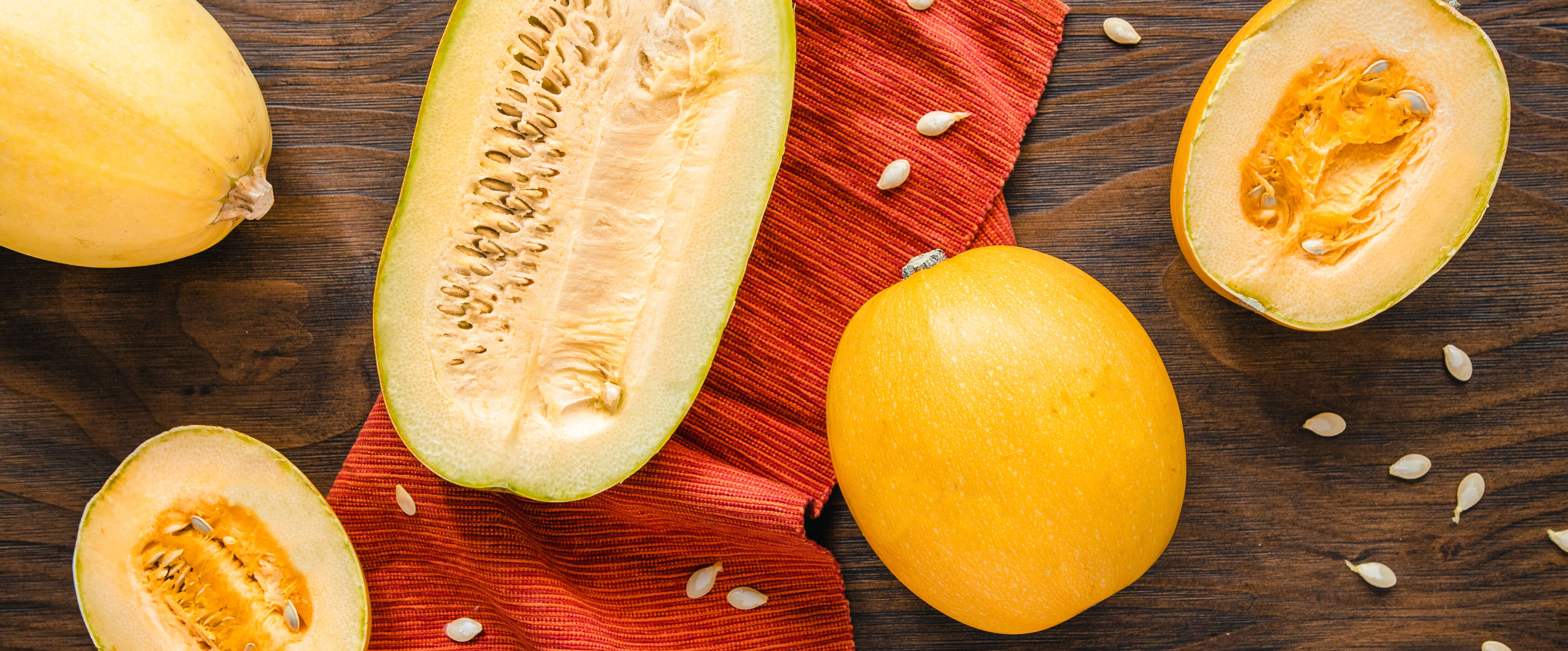 Spaghetti and Angel Hair (early fall to late winter)
Spaghetti squash is a great pasta alternative because it forms spaghetti-like strands when cooked and is also superb for sauerkraut. It's fairly neutral in taste with a slightly nutty aroma. The Angel Hair variety has even finer strings - think capellini instead of spaghetti.